Hard foiling-packing machine is suitable for packing different goods sold by the piece and products of food industry. Packing is done into hard foil pots. KFG-2B produces a three dimensional kind of a product from a shapable bottom hard foil and a top cover cardboard.
AREA OF USE:
Area of use is mainly focused on packing products of food industry: Dairy products, jam, honey, nut cream, products of confectionary industry or lamp, spark-plug, toothbrush, e.t.c.
PROCESS OF WORKING:
The packing machine is completely automatical, its movements are periodical. The machine is equipped with mechanical stageless drive and foil pacing device. Arriving at the proheating unit, on the influence of controlled radiating heat , the automatically fed bottom foil reaches its temperature required to be formed. Then the foil, already having the right temperature, arrives at the forming unit and vacuuming is used to press it onto the positive stamps patterns having temperate temperature. With automatically or manual feeding the unpacked product is placed into the formed foil. Afterwards positional welding takes place in the welding unit where the top cover foil (already lithographed as required) and the formed and filled bottom hard foil are being welded together. The next stage is at the cutting-out tool where cutting the outline of products takes place in two movements. Perforate of ears is also possible if needed. Packed products leave the machine on a carrier line.
PROCESS OF PACKING: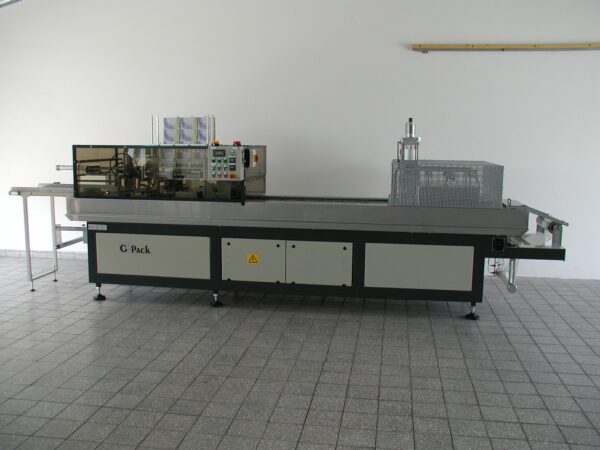 TECHNICAL DETAILS:
Capacity:
Set without stages 5-15 movement / min (product dependent).
Max. forming size:
Length prepush 300 mm width 500 mm, depth 55 mm.
Required electricity:
230 / 400 V, 50 Hz, max. 12 kW
Air requirements:
10 litre/movement, 6.5 bar
Cooling water requirements:
1 litre / min. (max. 24 °C).
Size of machine:
Length 4200-6200 mm, width 900-1250 mm, height 1800 mm.
Weight of machine:
1400 - 1800 kg.