LFG-1B is suitable for soft foiling and vacuum packing. The three dimensional packs are formed by two foils: the bottom one which can be shaped and welded and the top one which can also be welded. Building in incorrodible materials guaranties its applicability in food industry.
AREA OF USE:
The machine is suitable for packing mainly the products of food industry: i.e. Dairy products and meat, dried fruit or medical equippments (gauze) e.t.c.
PROCESS OF WORKING:
The machine works automatically and periodically. Wished capacity can be set without stages with frequency controlled pacing and PLC control. The incorrodable chain, set for infinity and equipped with special grabbing tweezers, passes the bottom foil on to the shaping stage. After contactheating the already soft foil is sucked into the bottom form on the influence of vaccum and pressed air and so three dimensional skin-form is achieved. Unpacked products can be placed in this formed skin. Throughout the next stage the machine covers the products with the top foil and does vacuuming and welding of the bottom and top foils. Afterwards a cutting tool cuts up the continuous line of packed products into separate packs according to the requirements and finally these packs are passed onto a carrying line which carries them out of the machine.
PROCESS OF PACKING: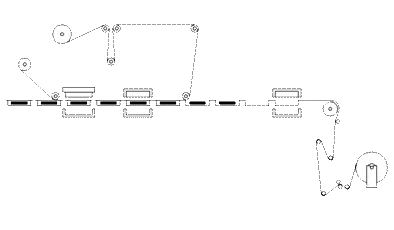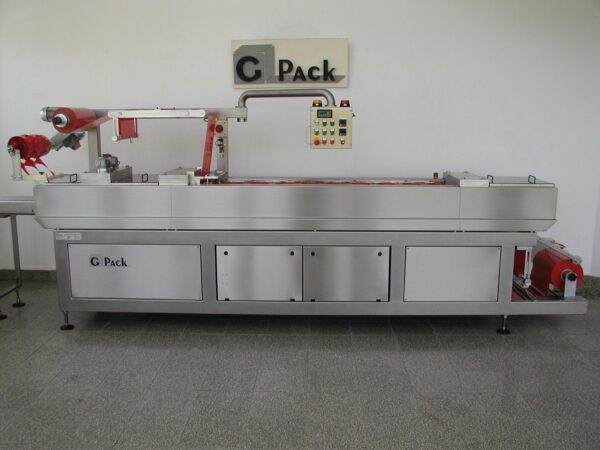 TECHNICAL DETAILS:
Capacity:
Set without stages 4-15 movement / min (product dependent).
Max. forming size:
Length prepush 300 mm width 500 mm, depth 90 mm.
Required electricity:
230 / 400 V, 50 Hz, max. 8 kW
Air requirements:
12 litre/movement, 6.5 bar
Cooling water requirements:
1,5 litre / min. (max. 24 °C).
Size of machine:
Length 3800-5800 mm, width 800-1150 mm, height 1700 mm.
Weight of machine:
1250 kg.